Switch Your Company To Virtual Cards With VBC Teams
Generate more leads, share more information, and market more effectively with VBC Teams!
Virtual Cards For The Team
Connect your whole team with virtual business cards. Cards are available on desktop and mobile devices.
Get started with VBC teams in under 5 minutes. Just click the button above and fill out the form!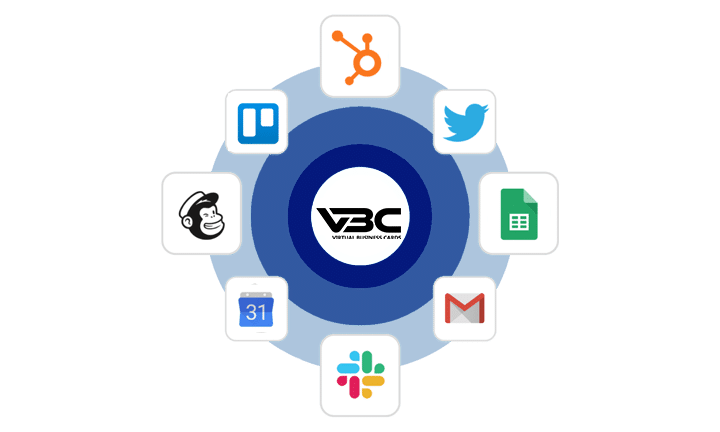 With our Zapier app you can connect new leads with over 5000 apps. Add new leads to your CRM automatically!
Measure the ROI of events and the overall experience with VBC! 
Recruit and store leads with our lead generation feature. Also experience a higher interaction rate while using your VBC!
When you subscribe to VBC teams we will get your team set up with FREE customized tap cards.
Add/Remove Team Members Instantly
As your team grows and changes stay completely up to date with your cards. New cards can be created or removed in minutes from your dashboard.
Upload From Excel or Sheets
Have a large team? Create an account for every team member and a card in under 60 seconds with our bulk upload option!
Edit Cards For Each Member
Keep full control over all cards in your organization. Allow team members to edit their cards from their account, or edit their cards from the administrator account.
From Handshakes To Customers (CRM)
Add New Interactions To Your CRM, Effortlessly!
When you or a team member meets someone new, VBC allows prospects to exchange their information directly on each members virtual business card. The prospects information is stored in your dashboard as a VBC Lead. VBC leads can be automatically exported to your CRM using our Zapier app (coming soon) or other integrations we currently offer.
Manage Leads Individually
VBC Leads are stored on each team members account as well as on the company account. VBC leads can managed differently from the admin account which manages all leads, to individual team member accounts.
The admin dashboard allows you to set the style and design for every card in your organization. Your logo will be dynamic across all cards along with the colors you chose. There are many options in our bulk-editor that allows you to edit all the cards in your organization at once.
Want static information to display across all of your teams cards? We have many dynamic options which will be displayed across all of the cards in your organization. You can set dynamic fields such as websites, custom links, videos, testimonials, and more.
Measure Exactly How Effective VBC Is
With VBC Teams we provide a google analytics driven dashboard to measure exactly how well your VBC's are performing. We measure analytics such as total views, unique views, clicks, time spent on card, locations, and more. These analytics can be viewed as a whole organization or individually by team member. They can also be broken down by day, week, month, and year.